Every year, TSO artist Greg Hildebrandt makes a limited number of tour programs available with HIS autograph. This year, the first fifty orders gets a bonus TSO print!
NOW AVAILABLE FOR PRE-ORDER!
FIRST 50 PRE-ORDERS WILL RECEIVE A FREE 8X10 TSO PRINT OF OUR NEW FEATURED 2016 T-SHIRT SIGNED BY GREG!

The NEW Trans-Siberian Orchestra 2016 - Winter Tour Program.
ONLY available signed by Greg Hildebrandt through Spiderwebart Gallery!

As our beloved fans well know, each year we work our hardest to bring you new content, ideas, and designs. Every year there is something new and exciting in our programs, because we know how incredibly special they are to you and to us!

This beautiful program features a wrap around four panel cover with a new illustration by Greg Hildebrandt created exclusively for this Trans-Siberian Orchestra tour — plus, there there are 4 internal illustrations! Based on Paul O'Neill's "Dreams of Fireflies," there are four pages of story and four pages of art! This is a whole different world for TSO and it ROCKS!

The 2016 program features 32 pages of exciting photography and breathtaking artwork from last year's tour. The performers from both East and West coast are included in this program. This is the perfect collectible for all TSO fans!

PLEASE NOTE: FREE PRINTS ARE LIMITED TO ONE PER ORDER.Thank you for your understanding!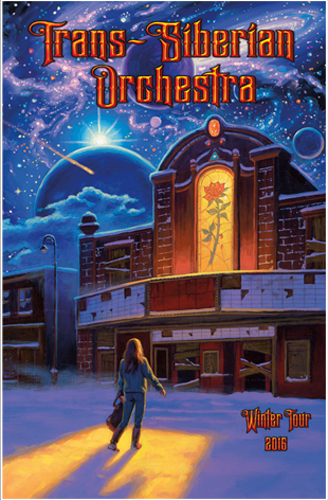 To order the East Tour Program:
https://www.spiderwebart.com/productsd.asp?snob=111800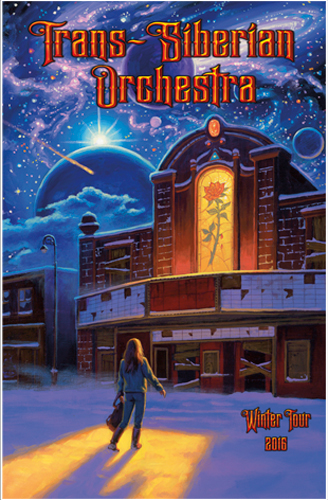 To order the West Tour Program:
https://www.spiderwebart.com/productsd.asp?snob=111801